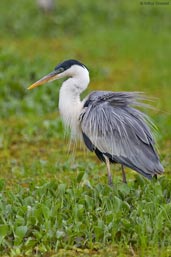 Brazil

The Cocoi Heron is found in South America and forms a superspecies with the Great Blue Heron Ardea herodias of North America and the Grey Heron Ardea cinerea of Europe, Asia and Africa. Being parts of a superspecies they are all very similar. The Cocoi Heron has more black on the head than the other two.

The Cocoi Heron is the largest Brazilian heron. Its diet is similar to other herons but it has also been known to eat small caiman.

The fifth photo shows an immature bird which is much greyer and shows more streaking on the underparts and lower neck.