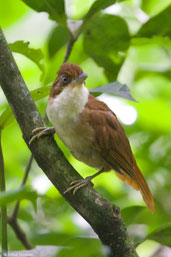 Teresópolis, Rio de Janeiro, Brazil
November 2008

The White-eyed Foliage-gleaner is distributed down the east of Brazil and into adjacent areas of Paraguay and Argentina. It is found in the undergrowth of Atlantic Rain Forest and in secondary woodland often associated with bamboo.

It is a dark brown foliage-gleaner with rump and tail a bright cinnamon-rufous and with a contrasting white throat and a white eye. Because it can survive in secondary growth it is still quite widespread.

It feeds on beetles and insects which it gleans from dead leaves and viny thickets and it is usually found as part of a mixed flock.