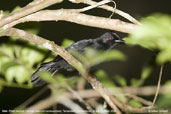 Tamandaré, Pernambuco, Brazil
October 2008


The White-backed Fire-eye is distributed in several disjunct areas covering Ecuador, Peru, Colombia, Bolivia, Brazil south of the lower Amazon and in Pernambuco.
It is found in dense tangles of forest understorey where it can be difficult to see as it forages for a variety of insects, spiders, centipedes, etc., usually disturbed by army ant swarms.

The male is glossy black with a red eye and white interscapular patch. The female varies between sub-species but is generally brown with a dark to black head.

There are recordings on xeno-canto, a distribution map from NatureServe and additional information available via Avibase.