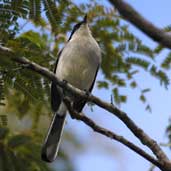 Boa Nova, Bahia, Brazil and Rafan, Lambayeque, Peru


The Tropical Gnatcatcher is the most numerous and widespread of this family of small slender birds with long tails. It is found from Mexico into the northern part of South America from the Pacific coast of Peru to the Atlantic coast of Bahia. See the distribution map at Birdlife International.

It inhabits woodland, forest borders, mangroves and scrub and it gleans for insects in the foliage and on twigs.