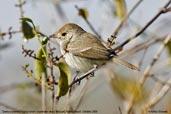 Mucugê, Bahia, Brazil
October 2008

My comments in 2008 were: "According to Ridgely & Tudor, one of the distinguishing features of the Tawny-crowned Pygmy-tyrant is that its wings are "virtually plain ". However, in "Birds of Ecuador", Ridgely & Greenfield mention "wings with two prominent buff wing-bars".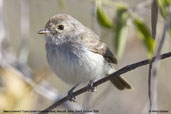 Its English name comes from a semi-concealed rufous patch on the top of its head which you can see well in the second photo.
It is distributed in most of Brazil outside Amazonia and into Bolivia, Uruguay, Paraguay and Argentina with a disjunct population in northern Colombia and Venezuela. See the distribution map at Birdlife International. It is found in scrub and forest margins.