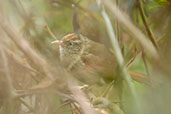 Santa Marta Mountains, Magdalena, Colombia
April 2012

The Streak-capped Spinetail is endemic to the Santa Marta Mountains. See the distribution map at NatureServe. It is found in montane forest and secondary growth usually in mid-storey and the sub-canopy. However, this bird was skulking low in a bush before it flew off to a higher tree.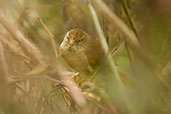 The principal feature is the rufous crown with black streaks. Note also the white stripe behind the eye, the rufous wings and tail, the pale eye and the yellowish green legs.

One vocalisation is a weak, high-pitched squeaky trill. This particular bird was recorded by Jeremy Minns.