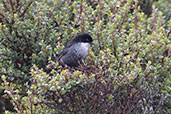 Papallacta Pass, Ecuador
November 2019

Stolzmann's Tanager is distributed in the eastern Andes from central Colombia to Ecuador. See the distribution map at Birdlife International. It is usually found near the tree-line in wet forest, forest edges and Polylepis woodland at between 3,000 and 4,000 metres.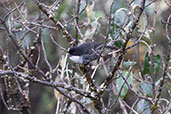 It is quite distinctive and, as such, is placed in its own genus. They are usually seen in small groups of up to 6 individuals as they forage for insects and small fruits in the bushes.

Jan Sztolcman (1854-1928) was a Polish naturalist and colleague of Taczanowski and Jelski who collected in Ecuador.