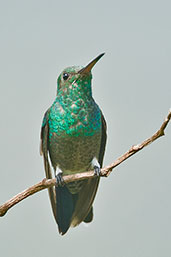 Minca, Magdalena, Colombia
April 2012

The Steely-vented Hummingbird is distributed in Venezuela, Colombia, Nicaragua and Costa Rica. See the distribution map at xeno-canto.

It is found mainly from sea-level to 1,500 metres in scrubby areas, woodland edges and gardens.

The bill is straight with a pinkish lower mandible. The undertail coverts are bluish black in colour with white edges giving a chequered look to the vent.