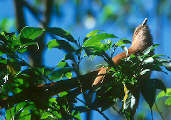 Brazil, Ecuador and Peru

The Common Squirrel-cuckoo is well named because you could easily mistake it for a squirrel as it slips through tree branches.

It is found from Mexico to northern Argentina and prefers open types of forest and woodland. See the distribution map at xeno-canto.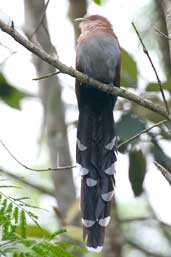 The iris is red and the bare skin around the eye is red except in Central America and west of the Andes where it is yellowish green.

It feeds on insects and, despite its name, it is not a brood parasite but normally lays 2 to 3 eggs which are incubated by both parents.

There are subtle differences between the various sub-species of which there are about 13. Photos 1 and 3 from south-east Brazil show the sub-species P. c. macroura which is dark chestnut above with a blackish belly. Photo 2 from Boa Nova, Bahia is the race pallescens which is paler. Photo 4 from Caxiuaña, Pará is the race hellmayri which is more tan on the upperparts. Photo 5 taken at Antigua, Guatemala is the race thermophila which is darker rufous above and dark grey to black on the belly. Photo 6 from Tarapoto, San Martin, Peru is the sub-species obscura. Photo 7, from Baeza, Napo, Ecuador is the sub-species mesura.