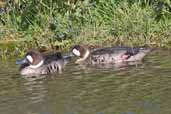 Torres del Paine, Chile
December 2005

The Spectacled Duck breeds in southern Chile and adjacent areas of Argentina. Most birds migrate north and east to central Chile and central Argentina during the austral winter. It is found on rivers, ponds and some of the smaller lakes. The birds we saw at Torres del Paine were all in small ponds.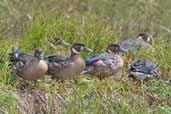 It has a white neck mark that does not go all the way round the back and a distinctive white patch in front of the eye. This varies in size but is generally smaller in the female. It has a pinky-bronze speculum which is more visible in flight.

Photo 2 shows a family on a nesting site on a small grassy island in the middle of a pond. There were 4 young and two adults. The youngsters have white smudges on the face which will develop into the white patches.

Spectacled Duck is classified as Near Threatened by Birdlife International.