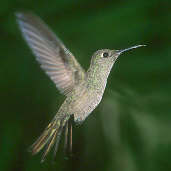 Near Ubatuba, São Paulo, Brazil
August 2000

Brazilian Endemic restricted to South East Brazil.

A surprisingly dull hummingbird, the male and female look similar as is usual when the male is dull.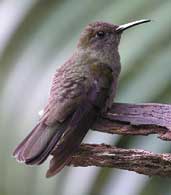 Note the slightly decurved black bill, the small white postocular spot, the diamond pattern on the under-tail coverts with white at the base of the legs and the coppery sheen on the back.

An aggressive bird, he kept chasing both Violet-capped Woodnymph Thalurania glaucopis and Black Jacobin Melanotrochilus fuscus out of his territory.