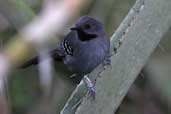 Boa Nova, Bahia, Brazil


The Slender Antbird is a Brazilian endemic found only in a few remnants of dry forest known as mata-de-cipó in the interior of south Bahia. It is found associated with large ground bromeliads of the genus Aechmea. The male in photo 1 is perched on an Aechmea bromeliad.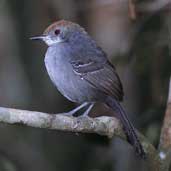 Although it seems quite common in its habitat, this type of deciduous woodland is fast disappearing in north east Brazil and, as a result, the Slender Antbird is classified as Endangered by Birdlife International.

It is a large grey antbird and the male, shown in photos 1, 4, 5 and 6 has a triangular black throat patch, white wing-bars and a red iris. The female, shown in photos 2, 3, 7 and 8 is similar but with a rufous-brown crown and nape, a white throat and paler underparts turning to white in mid-belly.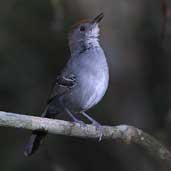 The male's song is a loud series of six or seven notes and is frequently accompanied in a duet by the female, seen singing in photo 3.

The birds feed on the ground and in the bromeliads where they look for spiders, termites, grasshoppers and other invertebrates.

There is an excellent note by Ed Willis and Yoshika Oniki in The Wilson Bulletin, Vol. 93, No. 1, March 1981 .