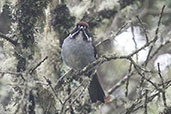 It is found in shrubby forest borders, Polylepsis and elfin forest up to the tree-line and mainly between 2,500 and 3,800 metres.

It has a chestnut crown, a white moustachial stripe bordered black and a whitish spot on the lores. Some sub-species such as the nominate form shown here have a white wing speculum.

The song usually contains phrases of chewy-chewy or t'chew t'chew.