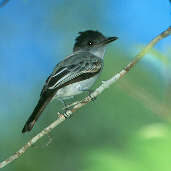 Serra da Canastra, Minas Gerais, Brazil
April 2001

The Sibilant Sirystes is a flycatcher which is closely related to the Myiarchus genus and follows that genus in using holes in trees for nesting.

It is found in forest and secondary woodlands in much of Brazil and adjacent areas of Paraguay and Argentina. See the distribution map at Birdlife International.