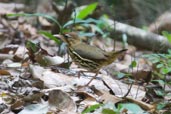 Serra de Baturité, Ceará, Brazil
October 2008

The Short-tailed Antthrush is distributed in eastern and southern Brazil from Bahia to Santa Catarina with disjunct populations in Alagoas and Ceará. It is also found in adjacent areas of Paraguay and Argentina as well as in Venezuela, Colombia, Ecuador, Peru and Bolivia.
It inhabits a variety of forest types including secondary woodland and is usually in areas with a fairly open understorey.

The birds in Ceará, as pictured here, are different from other sub-species in having an entirely pale bill (usually only the lower mandible is pale) and dark lores rather than a white loral spot.

There are recordings on xeno-canto, a distribution map from NatureServe and additional information available via Avibase. There is also a page with excellent photos on Wikiaves.