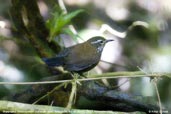 Teresópolis, Rio de Janeiro, Brazil
November 2008


The Streamcreeper is found in central and south-east Brazil and adjacent areas of Paraguay, Uruguay and Argentina and there are also several disjunct populations from Panama down the Andes to north-west Argentina and in Colombia and Venezuela. See the distribution map at Birdlife International.
It is found along rivers and streams in humid forest where it forages for beetles, caterpillars, spiders and other insects and their larvae.

It is dark olive-brown with a narrow white supercilium (in the nominate race of south-east Brazil), a white chin and large white spots on the breast and belly.