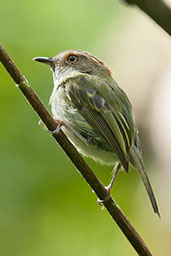 Montezuma, Tatamá, Risaralda, Colombia and Wildsumaco Lodge, Napo, Ecuador


The Scale-crested Pygmy Tyrant is distributed in Central America from Honduras to Panama and in South America from northern Venezuela to southern Peru. See the distribution map at xeno-canto. It is found in humid forest and is frequently associated with bamboo.

Its main feature is the crest made up of black feathers with a rufous edging. It is normally laid flat as in photo 3 but can be raised in a transversal crest.