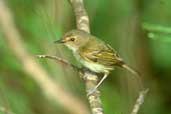 I must admit to having had doubts about the identification of these birds wondering if it were not Smoky-fronted Tody-flycatcher T. fumifrons. Consulting the illustrations in Hilty & Brown, Plate 36, Ridgely & Greenfield (Ecuador), Plate 69, and Clements & Shany (Peru), Plate 90, T. latirostre is shown as much more ochraceous in the facial area than these birds. (noting that Ridgely & Tudor state that the T. l. caniceps illustrated in Hilty & Brown has a "slightly richer ochraceous facial area"). On the other hand, T. fumifrons, as illustrated in Ridgely & Tudor, Plate 36, looks much more like the subtle buff colouring of these birds.

Ridgely & Tudor also note that T. latirostre lacks yellow on underparts. While these birds are less yellow than the illustration of T. fumifrons, it is not entirely white as in the T. latirostre illustrations.

Further, Ridgely & Tudor note that T. fumifrons "has more yellowish (not ochraceous) wing-bars".

Despite all this, the recordings made identify this bird as T. latirostre and there is a photo of T. latirostre on Sjoerd Mayer's CD, Birds of Bolivia, which has similar colouring to these birds.