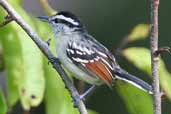 Caxiuanã, Pará, Brazil
November 2005

The Northern Rufous-winged Antwren is distributed from Panama into Colombia, Venezuela, Ecuador , Peru and Brazil. See the distribution map at Birdlife International. It is found in a variety of humid forest environments where it forages for insects in the canopy and sub-canopy of trees.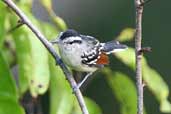 There are 3 sub-species and these photos show the male and female of the sub-species H. r. frater. Compared with nominate the male has a greyer back with black patches, a whiter chin and paler yellow below.

The female, as seen in photos 2 to 5, is particularly attractive with her rufous crown and forehead contrasting with her olive-brown back.