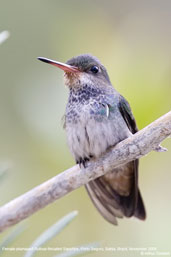 Veracel Reserve, Porto Seguro, Bahia, Brazil
November 2008

The Rufous-throated Hummingbird is distributed in a large part of the Amazon Basin with a disjunct population in central and eastern Brazil and adjacent areas of Argentina. See the distribution map at xeno-canto.

Previously regarded as having two sub-species it is now thought to be monotypic.

It is found mainly at forest edges and in grassland with trees.

The male has a violet-blue throat and chest with a bright rufous chin. The bill is straight and red with a black tip.