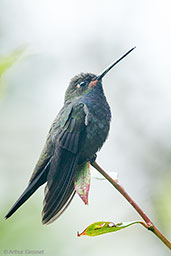 Montezuma, Tatamá, Risaralda, Colombia
April 2012

The Rufous-gaped Hillstar is distributed on the Pacific slope of the Western Cordillera of south-west Colombia and north-west Ecuador. It is found in forest and at forest edges often associated with streams.

Previously regarded as a sub-species of White-tailed Hillstar U. bougueri bougueri it has now been split by HBW and Birdlife International from the other sub-species and given the English name of Rufous-gaped Hillstar. The White-tailed Hillstar U. leucura is distributed on the eastern slopes of the Andes in southern Colombia, eastern Ecuador and north-eastern Peru.