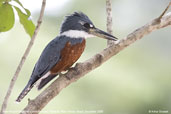 Brazil, Colombia and Peru

The Ringed Kingfisher is distributed from southern Texas through Central America and throughout most of South America below about 1,000 metres. See the distribution map at Birdlife International. It is found beside large water bodies including wide rivers and is also seen at the coast.

The female seen here in photos 2, 3 on the right, 4, 5, 6 and 7, has a broad grey chest band above the rufous belly rather than the all rufous underparts of the male.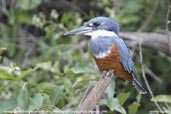 They feed mainly on fish although, when the waters are murky, they sometimes hunt insects. They have also been observed catching Swallow-tailed Hummingbirds Eupetomena macroura on a couple of occasions.

When underwater, they use their wings by rowing and using them as rudders.