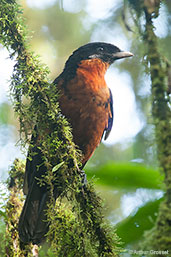 Otún-Quimbaya, Risaralda, Colombia
April 2012

The Red-ruffed Fruitcrow, a member of the Cotinga family, is distributed in south-east Brazil with disjunct populations in Venezuela, Colombia, Ecuador and Peru. See the distribution map at NatureServe. It is found in forest and forest borders at below 1,000 metres in Brazil but up to 2,700 metres in the Andes. It feeds on fruit in the main but young birds also feed on insects.

The nominate race of south-east Brazil has a red bib on its throat and chest while most other sub-species including P. s. occidentalis, shown here, have the lower underparts mainly rufous-chestnut.