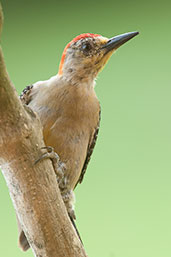 Los Cerritos, Risaralda, Colombia
April 2012

The Red-crowned Woodpecker is distributed from south-west Costa Rica through Panama to Colombia through Venezuela to Surinam. See the distribution map at NatureServe. It is found up to 1,700 metres in a variety of wooded and scrubby areas including gardens and mangroves.

The male, seen here in photos 1 and 2, has a red crown and nape behind a yellowish-white forehead. Upperparts are barred black and white, with a white rump and red on the centre of the belly. The female, seen in photo 3, has only pale red on the nape.