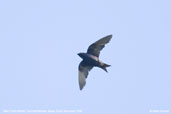 Fazenda Michelin, Bahia, Brazil and Roatan, Honduras


The Purple Martin breeds throughout a large part of North America and migrates southwards to South America during July to October returning north from mid-January onwards. See the distribution map at Birdlife International.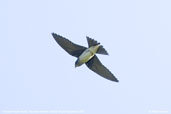 It is to be found normally over more open country and usually near water.

The male, seen here in photo 1, is bluish-black but with steely-blue wing-feathers. The female, as in photos 2 and 3, has a greyish or whitish forecrown, a greyish throat and breast becoming whitish with streaks on the belly.