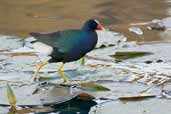 Brazil

The Purple Gallinule is distributed from the USA through Central America and the Caribbean into most of South America as far south as northern Argentina. See the distribution map at xeno-canto. It is found in wetlands, marshes, pools and along the coast and requires aquatic vegetation for breeding.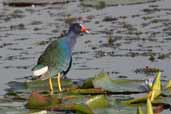 The adult is a very colourful bird with purple head, neck, breast and flanks, petrol green back and wings and all white undertail coverts. The bill is red with a yellow tip and a sky-blue frontal shield while the legs are yellow.

The immatures in photos 4 and 5 are much more drab particularly in photo 5 where it seems to have been digging some tasty morsel out of the mud.