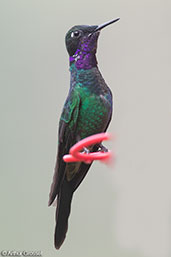 Leymebamba, Amazonas, Peru
October 2018

The Purple-throated Sunangel is distributed on the western slopes of the Andes from northern Ecuador to northern Peru. See the distribution map at Birdlife International. It is found in a variety of habitats from forest edge to shrubby areas between 1,800 and 3,200 metres.

It has a deeply forked tail, a deep violet gorget and a glittering blue-green forehead.