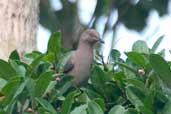 Borba, Amazonas, Brazil
August 2004

Unfortunately, these pigeons, which were feeding at a fruiting tree, were not vocalizing which makes their identification somewhat problematic. They are either Ruddy Pigeon C. subvinacea or Plumbeous Pigeon C. plumbea.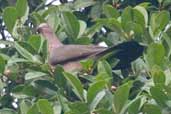 My original identification was Ruddy Pigeon based on the HBW which says: "iris ranges from pink to purplish red to brownish, with pale inner ring; orbital skin dull red", while for Plumbeous Pigeon it says: "iris red; orbital skin purplish red". However, Hilty, in Birds of Venezuela, says of Ruddy Pigeon: "eyes red... note eye color (yellow in Plumbeous Pigeon)" which is all a bit confusing.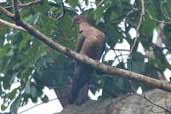 I got some valuable input from José Fernando Pacheco who informed me that Hellmayr (1910. The birds of the rio Madeira) mentions "iris brown" for the Plumbeous Pigeon Columba plumbea pallescens collected at Borba. Unfortunately, Hellmayr didn't collect any specimens of Ruddy Pigeon in the area.

I also asked for help from Bird Forum and you can follow the thread of the discussion at http://www.birdforum.net/showthread.php?t=24949.

The strongest evidence is from Rasmus Boegh in favour of Plumbeous Pigeon. He says:
"...there is no doubt that Plumbeous can have dark eyes. I saw a single individual with brown eyes (ID'ed via voice) in Venezuela - an area where all other Plumbeous I saw had pale eyes. All Plumbeous I have seen in Ecuador (both sides of the Andes), Peru, Bolivia & Brazil have also been pale-eyed. So, no doubt that they usually have pale eyes (at least in the localities I have been to). Having said that, I don't think anyone disputed that they can have darker eyes (as also mentioned in Birds of Venezuela and Birds of Peru). Therefore, I don't think this is a "direct ID". Rather, an ID via elimination. Personally, I have no doubt the birds are Plumbeous, quite simply because I have been unable to find any indications supporting that this strikingly pale eye-colour ever occur in Ruddy. Hence, I believe Ruddy can be eliminated as a possibility, leaving Plumbeous. This would have been much more complicated if the bird had been dark-eyed, but luckily it is not...".

So I am going with Rasmus's view. If you have anything further to add, please let me know at arthur@arthurgrosset.com or through the Bird Forum site.