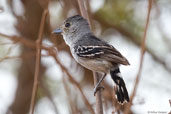 Chapada Diamantina, Bahia, Brazil

There has been a lot of work done on the Slaty Antshrike complex in recent years and, what was once regarded as a single species, Thamnophilus punctatus, has now been split into 7 species of which this is one.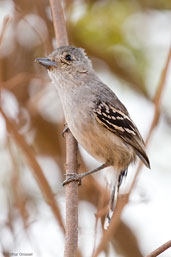 It is distributed in central, eastern and north-eastern Brazil and is found in deciduous and semi-deciduous woodland, including caatinga and gallery forest. See the distribution map at Birdlife International.

The male, seen here in photos 1 to 3, has a black crown with a grey forehead, grey upperparts with blackish wings with bold white spots and edging and a black tail with white spots at the tip and in the middle. Underparts are light grey to whitish with a buffy tinge on the belly sometimes apparent.

The female (photos 4 to 6) has a rufous crown, a cinnamon back with blackish wings edged white, a brown tail with white near the tips and pale cinnamon-buff to whitish underparts.