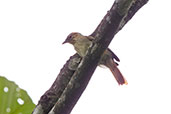 Upper Loreto Road, Napo, Ecuador
November 2019

The Plain Softtail is distributed in four disjunct areas: the east of Ecuador and north of Peru, the north-east of Peru, northern Bolivia and adjacent southern Peru and the central Amazon in Brazil between Manaus and Santarém. See the distribution map at Birdlife International. There are also recordings outside of these areas such as in Humaitá, Amazonas, Brazil so it may be more widespread.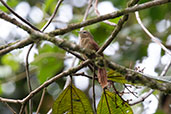 It is found in humid forest and seasonally flooded forest as well as drier forest areas and usually between 50 and 500 metres. This sighting of a pair was unusual because it was at about 1,100 metres in fairly open secondary woodland. It was sufficiently unusual for our guide, Dušan Brinkhuizen, to become very animated and messaging some of the local Ecuadorian birders about finding such a rare bird in such unusual habitat. According to eBird, these birds have not been seen in this area since our visit (at the time of writing - February 2020).

Dušan first identified the birds by their distinctive duetting song.