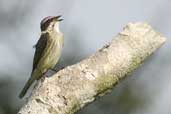 It is found on the edges of forest and woodland or in clearings with scattered trees.

It is olive-brown above with a long white supercilium, whitish malar bordered by a thin dark streak below. The bill is short, the wings are plain but with pale edges to the feathers, the throat is white while the breast has indistinct dark streaks above the pale yellow of the belly.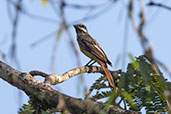 The piratic element comes form its habit of stealing nests from species such as caciques and oropendolas by chasing the rightful owners away.
Although it is a flycatcher, it preys on insects only during the breeding season while at other times it eats fruit.