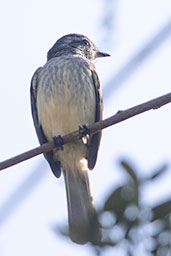 Chaparrí, Lambayeque, Peru
October 2018

The Pacific Elaenia is distributed in west Ecuador and north-west Peru. See the distribution map at Birdlife International. It is found in dry forest and scrub up to 1,800 metres but mainly below 900 metres.

It is quiet and does not frequent mixed flocks. Usually perched upright it can be difficult to locate as it is quite unobtrusive.