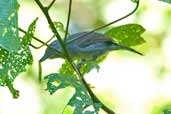 São Gabriel da Cachoeira, Amazonas, Brazil
August 2004

The Mouse-colored Antshrike is distributed in the Amazon Basin north of the Amazon and into the Guianas and south-east Venezuela and also south of the Amazon to the west of the rio Madeira. See the distribution map at Birdlife International. It is found mainly in terra firme forest especially on white, sandy soils.

The male is grey above with brownish wings and two quite faint dotted wing-bars. The female is rufous-brown.