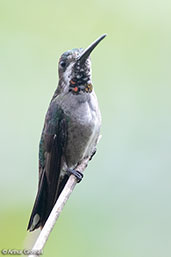 In forest it prefers canopy, edges and clearings but is also found in more open habitats such as cerrado. It avoids the shady forest interior.

The bill is very long, straight and black and the head is well marked with a small white spot behind the eye, a white malar stripe and a gorget which in the male is a dark metallic purple and in the female is a dusky grey. The tail is short, square and tipped with white while the breast is grey with a white central stripe broadening into the belly.

It feeds largely on nectar from long flowers on flowering trees but can also be seen hawking for insects high in the air.