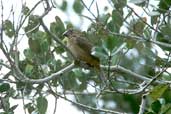 The male is black apart from its chestnut breast and belly. The underwings are white and you can usually see a small white speculum. The female is brown with a heavy black bill, white under the wings but without a white speculum.

It inhabits the edges of woods and marshes where it can find the seeds on which it feeds.

The male often sings from an exposed perch and the song is a long melodious series of whistled notes. This feature has made the species one of the most highly prized songbirds in Brazil and, while many cage birds are bred from captive stock, it remains highly sought after in the wild for the caged bird trade.