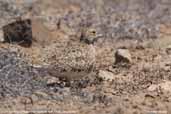 Pinguino de Humboldt National Park, Chile and
Santa Rosa, Lambayeque, Peru


The Least Seedsnipe is distributed from south-west Ecuador through coastal Peru and western Bolivia to Chile and Argentina. See the distribution map at Birdlife International. It is found mainly in semi-desert with scattered plants and from sea-level to over 4,000 metres.