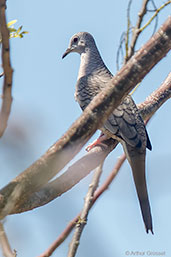 Cuero y Salado, Honduras
March 2015

The Inca Dove is distributed from the south-west USA to the north-west of Costa Rica. See the distribution map at Birdlife International. The Caribbean coast of Honduras, where this bird was seen, is just outside the normally accepted distribution of this species.

Given this geographical distribution it should probably have been named Aztec Dove rather than Inca Dove.

It is found in drier habitats including brushy woodland.