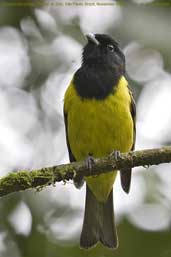 Parque do Zizo, SC#o Paulo, Brazil
November 2006

The Hooded Berryeater is a Brazilian endemic and is distributed in south-east Brazil from EspC-rito Santo to Rio Grande do Sul. It is found in the Atlantic Rain Forest at between 400 and 1600 metres.

The head, neck and breast are black while it has a yellow collar round the neck and the remaining underparts are also yellow. The mantle is chestnut brown while the wings are blackish with olive green edging.

It eats mainly fruits but also some large insects. They are usually solitary.