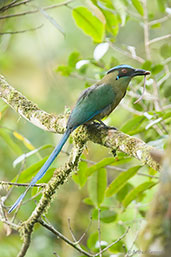 Cerro Montezuma, Tatamá, Risaralda, Colombia
April 2012

The Highland Motmot is distributed in the Andes from Colombia to northern Bolivia. It is found in montane forest at between 1,500 and 2,400 metres.

It differs from the Blue-crowned Motmot in its slightly larger size and in the head pattern. Note the blue flash at the rear of the black face mask.

It feeds on beetles, large insects, caterpillars and, as in this case, worms.