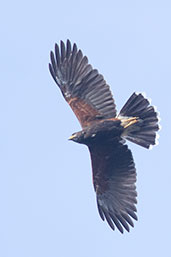 Jaen, Cajamarca, Peru

Harris's Hawk is distributed from the south of the USA through Central America to South America as far south as central Chile and Argentina. See the distribution map at Birdlife International. It is found in fairly open country and normally up to about 1,500 metres.

There are two sub-species. The nominate, often called Bay-winged Hawk, is found in South America except western Colombia and north-west Peru. It has a greyer face with some speckling below as well as being smaller with a longer tail. The sub-species. P. u. harrisi is found in North and Central America as well as western Colombia and north-west Peru where this photo was taken.