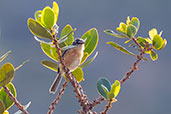 Serra da Canastra, Minas Gerais, Brazil
October 2022

The Grey-backed Tachuri is classified as Near-threatened by Birdlife International and is a Brazilian endemic.

It is found only on rocky and shrubby grasslands (campos rupestres and campos cerrados) in the interior of eastern Brazil, specifically the states of Bahia, Minas Gerais and São Paulo. It is restricted to between 1,100 and 1,600 ms above sea level. See the distribution map at xeno-canto.