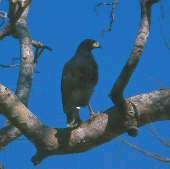 Brazil


Almost entirely black with white on the base and the tip of the tail and with yellow legs and cere.

The Great Black Hawk is found in Central America and in tropical and sub-tropical South America. It lives in a broad range of habitats from open country to forest but is normally to be seen near water.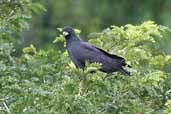 The Great Black Hawk feeds on a wide variety of prey including snakes, rodents, birds and fish.

There are illustrations in HBW, Volume 2, Page 172 and Hilty & Brown, Plate IV.