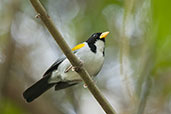 Minca, Magdalena, Colombia
April 2012

The Golden-winged Sparrow is distributed in northern Colombia and north-west Venezuela. There is a distribution map on NatureServe. It is found in undergrowth and shrubbery in deciduous woodland from 250 to 1,400 metres in altitude.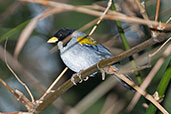 It feeds mainly on the ground on fruits, insects and seeds.

It has a bright yellow bill, an entirely black head extending down to a partial collar on the neck. It is the only Arremon without stripes on the head. The shoulders are bright yellow.

The song is a series of high, thin notes.