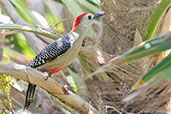 Guatemala and Honduras
March 2015

The Golden-fronted Woodpecker is distributed from the south of the USA through Mexico, and Central America as far south as Nicaragua. See the distribution map at Birdlife International. It is found in arid and semi-arid areas as well as clearings in forest (photos 6, 7 and 8), gardens (photos 4 and 5) and sea-side woodland (photos 1, 2 and 3)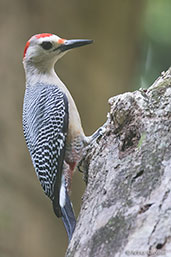 There are 12 sub-species, three or four of which are illustrated here.

Photos 1 to 3 from the Bay Islands, Honduras are of the sub-species M. a. canescens endemic to these islands. It has a very long bill, red nasal tufts, a red patch on the belly and a pale face and underparts. The male in photos 1 and 2 has a red crown while the female in photo 3 has a red nape.

Photos 4 and 5 from Antigua, Guatemala are of the sub-species M. a. santacruzi with yellow nasal tufts and golden-orange belly patch. Photo 6 is probably M. a. pauper from Pico Bonito, Honduras which is similar but with shorter wings.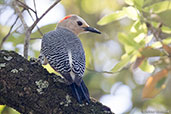 Photos 7 and 8 from Tikal, Guatemala, is the sub-species M. a. dubius with red nasal tufts and a red belly patch as well as being darker on the face and underparts.

I recorded the birds on Roatan, Bay Islands