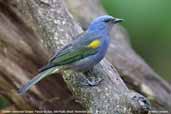 Parque do Zizo, São Paulo, Brazil
November 2006

The Golden-chevroned Tanager is endemic to south-east Brazil from Salvador, Bahia south to Santa Catarina. It is found in the canopy and borders of the Atlantic Rain Forest. See the distribution map at Birdlife International.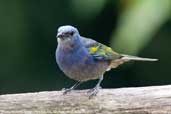 The head and underparts are a rich violet-blue while the back and is a dull blackish blue and the wings have a greenish edge. The golden yellow patch on the shoulders is the feature that gives the bird its English name.

The female, seen in photo 3, is duller and greyer on the underparts.