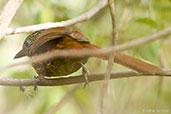 Santa Marta mountains, Magdalena, Colombia
April 2012

The Flammulated Treehunter is distributed in the Andes from western Venezuela to the extreme north of Peru. There is also a population in the Santa Marta mountains. See the distribution map at NatureServe. It is found in forest at between 2,200 and 3,500 metres especially near or in Chusquea bamboo.

It feeds on arthropods and nests in a tunnel excavated from a bank.