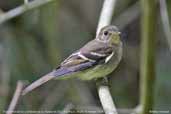 Brazil


Euler's Flycatcher is distributed in South America east of the Andes and north of Buenos Aires but is absent from much of Venezuela, Colombia and the Guyanas. It is found at lower levels in humid forest, secondary woodland and forest borders and is often associated with bamboo.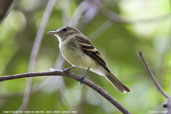 It has two pale buff wing-bars and a relatively wide and flat bill with a black upper mandible and a yellowish lower mandible. Upperparts are brownish-olive, the throat is whitish, the breast brownish while the belly is pale yellow.

It is usually seen alone perched in the undergrowth from where it sallies for its prey of insects, beetles, spiders, etc. before returning to its perch or settling on a new one. To show you how dark, inconspicuous and still the bird in photo 1 was, the photo was shot, hand-held, at ISO 1600, 1/50sec at f/4.

The song is a buzzy short series of descending notes with the first note the loudest as you can hear on xeno-canto. Additional information is available via Avibase.

The bird is named after Carl Euler, the Swiss consul in Rio de Janeiro at the end of the 19th century who, as an amateur ornithologist, surveyed the north Paraíba valley.