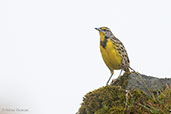 Chingaza, Cundinamarca, Colombia
April 2012

The Eastern Meadowlark is distributed from eastern Canada and the USA through Mexico and Central America to Colombia, Venezuela, the Guianas and Brazil as far as the mouth of the Amazon. See the distribution map at NatureServe.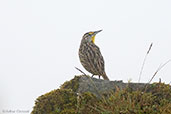 It is found in open grassy habitats and, in the Andes at between 1,700 and 3,500 metres. It feeds on the ground on insects, beetles, etc. and on seeds. It often flicks its tail when standing. It usually sings from the top of a post, rock or mound.

The sub-species shown here S. m. meridionalis is one of the largest and darkest and has a voice that is different from some other sub-species.