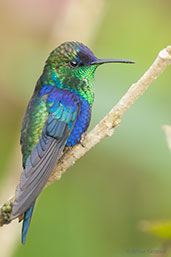 Santa Marta Mountains, Magdalena, Colombia and Pico Bonito Reserve, Honduras


The Crowned Woodnymph is distributed from Guatemala through Central America to Colombia, Venezuela and Ecuador. See the distribution map at Birdlife International. It is found in forest, forest edges and secondary growth but avoids open scrub.

Some authorities treat Green-crowned Woodnymph T. fannyae as a separate species but it differs only in the colour of the crown.

Photos 1 to 4 from Santa Marta, Colombia are of the nominate sub-species.