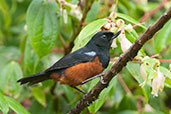 Cerro Montezuma, Tatamá, Risaralda, Colombia
April 2012

The Chestnut-bellied Flowerpiercer is a Colombian endemic restricted to a small range in the western Andes. It is found at between 3,000 and 3,800 metres on the ecotone or border between paramó and elfin forest. It is classified as Endangered by Birdlife International.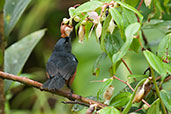 It is mostly glossy black with rufous-chestnut breast and belly and silvery-blue patch on the shoulders.

We saw several individuals, mostly in pairs, and the bird in photo 4 was recorded by Jeremy Minns. There is a Munchique Wood Wren Henicorhina negreti singing in the background.